Selectronic Newsletter February 2020
16 February 2020
BIG Selectronic Announcements Made at All Energy 2019
1 November 2019
This year Selectronic did things a little differently during All Energy, with a ticketed "Energy Hub Lunch" event hosted by MPower held during the first day of All Energy.
It was standing room only, with over 140 attendees itching to hear our announcements! Thanks to MPower, along with fellow guest brands GenZ, Cecasa and Hitachi. We hope you enjoyed it as much as we did!
Check out this video (courtesy of MPower) to get a glimpse of what you missed! https://youtu.be/5Ny1F56QxPQ
We made the following announcements at the event, all to be released in January/February 2020:
Plans were revealed for the move to our new Wantirna premises next year, including a Storage Centre of Excellence. We have some exciting plans for our new base of operations!
POWERCHAIN - up to 4 inverters per phase can be connected, giving up to 240kW of SP PRO power, and up to 480kW of Select SUN PV!
Fronius SCERT Symo - the Fronius Symo 8.2kW, 10kW, 12.5kW and 15kW models will all be Selectronic Certified (SCERT)!
Select.live Upgrade - via the Select.live portal, installers will have complete access to SP LINK! You can then configure, download and analyse installations from anywhere you have internet access. Existing installs will be updated automatically over the internet, free of charge!
New online tools for installation videos, an online store for parts, accessories and more!
SP PRO Accreditation program to be dropped, with all accreditations ending on 31st December 2019. Easier access for everyone to obtain a 10 year warranty for the SP PRO. A new designer training program will commence January 28th 2020!
A sneak peek into our future, but for that, you had to be there!!!
Further details on all of the above announcements will be released via email and social media channels very soon!
Selectronic adds new 3.5kW model to its industry leading SP PRO Series 2i range.
26 August 2019
Following the recent release of the SP PRO Series 2i range, Selectronic has added the new SMPC480 3.5kW model for smaller applications that still require high quality. The SPMC480 model caters for a growing demand for smaller scale battery storage systems, with a continuous output of 3.5kW to outperform all competing brand equivalents on the market.
An Australian-owned manufacturer of 55 years, Selectronic have continued to rate their world-renowned SP PRO units on a 24/7 basis. In addition to a 3.5kW continuous output, the SPMC480 can also deliver 5.25kW for 30 minutes, 6kW for 1 minute and a peak output of 8.4kW for 30seconds. This new model is also capable of charging batteries from an AC Source at up to 73A DC or 3.5kW. Up to 7kW of managed AC Coupled PV can be connected, or an unlimited amount of DC Coupled PV.
These performance statistics make the SPMC480 a market-leading inverter charger, when compared accurately with all other brand offerings.
The SPMC480 offers all the features of the SP PRO Series 2i range up to 20kW, including Selectronic's new AC Coupling Recovery mode, which allows a black start with AC Coupled PV. Dual phase or Three phase systems can be achieved by adding additional units for off-grid or grid-connected applications, as well as catering for any battery chemistry, including Lithium battery brands such as BYD, LG Chem and many more. This is all backed up with up to a 10-year warranty and Victoria-based after sales support for consumer peace of mind.

Selectronic Receives Award at 2018 Victorian Manufacturing Hall of Fame Awards
6 June 2018

Ben Carroll MP (left), presents the finalist award to Rod Scott,
CEO of Selectronic Australia (right)
Selectronic were announced as a second place finalist in the New Energy Technologies category in the 2018 Victorian Manufacturing Hall of Fame Awards. The event took place at the Crown Palladium in the heart of Melbourne CBD on Monday 28th May.
Many applicants were received for New Energy Technologies one of six high growth sector categories that make up the annual event. The awards recognise exemplary companies and individuals in the manufacturing industry in the state of Victoria.
Selectronic is a family-owned Australian business for more than 50 years, and a leading manufacturer of multi-mode solar inverter products. Its flagship model, the SP PRO is made at the Selectronic production facility in Chirnside Park, using over 83% of Australian made parts.
Selectronic CEO Rod Scott, was presented with the finalist award by Ben Carroll, Minister for Industry & Employment.
Rod commented:
"Receiving this award is a fantastic achievement for Selectronic, it symbolises the daily efforts of our hard working team. These awards celebrate Australian manufacturing and demonstrate that Australia has the opportunity to be a key player locally and to the world in new energy technologies and more specifically, the energy storage market.
As an Australian-owned manufacturer, we are pride ourselves on the fact that Selectronic products are designed and made in our facility using predominantly Australian made parts, so we make every effort to support Australian manufacturing as a whole."
The state's manufacturing industry contributes $27.7 billion to the Victorian economy, with more than 13,000 businesses employing more than 286,000 people.
Selectronic celebrates 200,000th Serial Number with the Hon Tony Smith MP
Wednesday, 21 March 2018
Selectronic celebrated a milestone event in achieving serial number 200,000 of its product range, at an event held on Tuesday 20th March at its production facility in Chirnside Park, Victoria. The event was commemorated with special guest the Hon Tony Smith MP, Federal Member for Casey Victoria and Speaker of the House of Representatives.
A family-owned Australian business for more than 50 years, Selectronic is a leading manufacturer of multi-mode solar inverter products which now operates under the guidance of brothers Rod and Ken Scott. Rod Scott, CEO for Selectronic, guided Tony Smith on a tour of the Selectronic facility, meeting the Selectronic team and learning how the flagship range of SP PRO solar inverter products are made, before helping to load and seal the 200,000th serial numbered product.
Other visiting guests included key representatives from the Smart Energy Council and Clean Energy Council, of which Selectronic is a founding member.

Rod Scott commented:
"We are delighted to celebrate this significant milestone for Selectronic with Tony Smith. As a team, we pride ourselves on the fact that Selectronic products are designed and made in Australia, something that has not changed for over 50 years.

Given our long experience with off-grid energy systems, we feel it is Australia's time to shine. Australia has the opportunity to not just be a consumer, but also a producer and key player locally and to the world in this fast growing energy storage market."
Having sealed the 200,000th serial numbered Selectronic product, Tony Smith commented:
"It's great to see Selectronic, a family owned business based in Chirnside Park, successfully operating after five decades of continuous manufacturing.

Rod and his team's ingenuity and adaptability in developing Selectronic into a leading manufacturer of transformers and inductors are inspiring. To have produced your 200,000th multi-mode inverter unit is a testament to your success as a company.

Today's milestone is something that all of the team can be truly proud of. It is great to see that Selectronic are exporting quality Australian renewable energy inverter units around the world."
BYD, LG Chem Stand Alone and Sonnenschein Lithium now approved with SP PRO
Thursday, 9 February, 2018
Expanding the flexibility of our products, the SP PRO battery inverter can now be used with the following Lithium batteries.
BYD 2.5kWh Lithium Battery modules
LG Chem 6.5kWh Rack mount Stand Alone modules
Sonnenschein@home Lithium batteries; 6.8 and 9.0 models
LG Chem RESU
All of the above are officially approved for both Off Grid and On Grid systems, however you must refer to the battery manufacturer for specific details and installation requirements.
These battery additions will provide integrators with more options for designing quality storage systems. All you will need is the appropriate 48V SP PRO and the matching Battery Communications kit.
Battery Communications kit include the updated Communications Card 2017 and the correct communications cable for the fastest and easiest installation possible.
For the full installation procedure, refer to the following document:
IN0051_06 Installation of Managed Batteries (PDF 1.06 MB)
myGrid - Discontinued
Wednesday, 1 November 2017
New CEC Battery Installation Guidelines for Accredited Installers become mandatory on November 1st 2017. The current myGrid box does not comply with all of the requirements of the new guidelines. Therefore all myGrid products will be discontinued from November 1st.
Bill Shorten and Kim Carr visit Selectronic
Friday, 9 June 2017
Today Bill Shorten, Federal Leader of the Opposition, and Kim Carr, Shadow Minister for Innovation, Industry, Science and Research visited Selectronic Australia in Chirnside Park, Melbourne.
The Labor politicians visited Selectronic to show their support of Australian manufacturing in the renewable energy sector.
Their visit coincided with the release of the Finkel report which is an independent review into Australia's national electricity market.
Mr Shorten and Mr Carr seemed genuinely impressed with our operation and how the SP PRO is contributing to energy security for many Australians.
A transcript of the media release can be found at billshorten.com.au.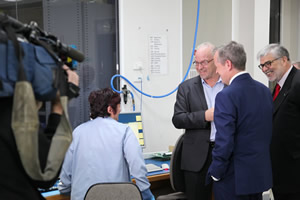 ZCell shines with Selectronic
Tuesday, 4 October 2016
Australian battery company Redflow Ltd today announced that its new ZCell battery is compatible with the SP PRO battery inverter from Melbourne-based electronics manufacturer Selectronic Australia.
ZCell is a 10 kilowatt hour (kWh) zinc-bromine flow battery that can 'timeshift' solar power from day to night, store off-peak power for peak demand periods and support off-grid systems. Redflow last month announced its first ZCell installers, providing national coverage for quoting and installing ZCell-based energy storage systems.
Redflow undertook extensive testing of the Selectronic SP PRO battery inverter at its Adelaide battery integration and testing lab to ensure it works with ZCell, a process simplified by the purpose-built ZCell battery management system (BMS).
Selectronic is a 52-year-old Australian company that designs and manufactures battery inverters which are sold in Australia, Asia, Africa, Europe and South America. The SP PRO is a smart multi-mode inverter that suits both off-grid and solar hybrid (grid-connect) installations for residential, commercial and industrial projects.
Selectronic CEO Rod Scott welcomed the news of the SP PRO compatibility with ZCell. "ZCell is a unique battery from a capacity point of view, recycling and longevity," he said. 'We see a good fit between our reliable long-lasting battery inverters and ZCell."
Redflow CEO Simon Hackett said Selectronic was a very popular battery inverter among its installers. "The SP PRO is a wonderfully flexible inverter that can be configured to fit any energy storage requirement, whether on or off-grid, across residential or commercial applications," he said. "Selectronic is a much loved product in the Australian energy storage industry and we are delighted to certify that the SP PRO works with ZCell."
Both Selectronic and Redflow will display their latest products at this week's All-Energy 2016 Exhibition in the Melbourne Convention and Entertainment Centre on Tuesday, October 4, and Wednesday, October 5.
Redflow CEO Simon Hackett
Selectronic at Solar Energy 2016
Monday, 16 May 2016
Thank you to all those who visited us at Solar Energy 2016 at the Melbourne Convention and Exhibition Centre last week. Over 4500 people attended the show and it felt like most of those visited our stand at some point over the two days! We scanned a record number of attendees onto our stand and will contact those delegates via email in the next week or so.
It was heartening to hear those who have used our products extolling the virtues of the SP PRO and we also appreciated the opportunity to introduce our range of smart bi-directional inverters to a new audience.
The Sales and Marketing department, consisting of Lindsay Hart, Craig Hunter, Stephanie Paterson and Amanda Lenihan were kept so busy chatting to people that we really appreciated some of the guys from Krannich and MPower helping us our on our stand each day.
Rod Scott, our Sales and Marketing Director, spoke across all three conference streams and was able to share his experiences of the booming interest in solar plus storage to hundreds of interested delegates.
Thank you to all those people who entered the SP PRO Star and Wish competition. We are collating the feedback on the star feature of the SP PRO and the feature that people wish our inverter-charger possessed. Congratulations to Warren from New World Solar Solutions & Ben from Phase Electrical & Energy Solutions who won $200 Red Balloon vouchers - the flexibility of their prize matches the flexibility of our SP PRO!
If we missed you at Solar Energy 2016, hopefully you can catch us at All Energy in October.
A 10 year warranty from a company you can trust
Wednesday, 13 April 2016
How do you make a great product even better?
From 1 April 2016 we extended our warranty on the SP PRO series and improved our prices - and that's no joke!
It's now possible to receive up to 10 years warranty on an SP PRO series in Australia & New Zealand and up to 5 years in other countries - all this is backed by a company that's been around for more than 50 years.
| | |
| --- | --- |
| Warranty Requirements from 1 April 2016 for Australia/New Zealand | Total Warranty Duration |
| You are the original purchaser of the SP PRO. | 3 years |
| You are the original purchaser & you have registered your warranty online within 60 days of installation | 7 years |
| You are the original purchaser & you have registered your warranty online within 60 days of installation & your SP PRO was installed by a Selectronic Accredited Integrator (SAI). You have supplied a valid SAI number when registering your warranty online. | 10 years |
Click here for the warranty registration page.
On top of all this, we have made new commitments to pricing. Contact your Selectronic Distributor today for an updated price list.
Relax, Selectronic really does have you covered.
KACO Asia to commence servicing all KACO products for Australia & New Zealand
Wednesday, 16 March 2016
From 1 June 2016, Selectronic will no longer be the service agent for KACO grid tie inverters in Australia and New Zealand. From this date, KACO Asia will take responsibility for the service and repair of their products in the Asia-Pacific region.
KACO Asia is in the process of implementing their new service protocols for Australia. We will continue to support our customers and assist in any way we can to reduce the impact of the transition to KACO Asia, and post further updates once arrangements are finalised.
Selectronic have a long association with KACO, beginning with the distribution of the KACO Powador in 2008. In 2013 KACO recognized our SP PRO bi-directional inverter as being one of the most advanced in the world and began to distribute it in Europe under the brand name, the 'blueplanet gridsave eco'. Another container of our Australian designed and manufactured inverters left for Germany late last year. Despite the cessation of our service agreement in Australia, Selectronic expects the export of the 'blueplanet gridsave eco' to continue to prosper.
KACO Asia (Korea)
Phone: +82 31 732 7300
Email: kacoas@kaco-newenergy.kr

If you need any further clarification on this matter, please contact us.
Selectronic Australia – Germany needs us!
Tuesday, 24 November 2015
Yesterday, the new Mayor of Knox, Cr Tony Holland visited Selectronic Australia's premises in Chirnside Park to witness a container of 95 of our Australian-designed and manufactured inverters leaving for Germany.
Selectronic is a company that has been manufacturing for more than 50 years with humble beginnings in Boronia in 1964. The company has been designing and manufacturing inverters since 1981. These inverters allow you to manage and store excess energy generated from a renewable source such as solar panels.
The Germans invented this technology – Selectronic perfected it. Selectronic exports to countries all over the globe including Germany which is generally regarded as manufacturing the best solar equipment. The German company, KACO, recognises the superiority of these inverters and distributes them in Europe under their own brand name.
"We are looking to build our export market over the next 12 months – one container per month equals 100 new permanent full-time Australian jobs. These new jobs would be both at our head-quarters here along with new jobs at our Australian suppliers. New jobs would include production, engineering as well as research and development" says Rod Scott, Selectronic's Director of Sales and Marketing.
Selectronic is extremely proud that it manufactures its products right here in Melbourne. The company employs approximately 35 people here in Chirnside Park.
Mayor Holland commented, "I am personally very supportive of any growth in Australian jobs but particularly with Selectronic as they started the business in Knox in 1964. I believe the renewable industry is integral to our future; it's exciting to have an Australian company leading the way."
The Ecoult Installer's Seminar Roadshow comes to Selectronic
Monday, 9 November 2015
This morning energy storage manufacturer, Ecoult, hosted a room full of solar installers at Selectronic's headquarters in Chirnside Park, Melbourne. Ecoult were here to promote their Ultraflex 48V Plug 'n' Play Energy Storage Range.
The Ultraflex system is designed to use their high-cycling, energy-efficient UltraBatteries in commercial and residential applications, providing more than 11kWh usable storage and 25kW of peak power.
Selectronic's training room was the ideal choice for the Melbourne leg of the roadshow. Selectronic's inverters and Ecoult's batteries are already working together in many installations throughout Australia.
Selectronic is proud that our SP PRO bi-directional inverter charger is 'battery agnostic'; it has a highly configurable set of battery charging parameters using our SP LINK software. Here you can adjust the voltage, maximum current and the time of each of the five possible charging stages. This means that almost any battery technology can be used with a SP PRO.
Ecoult recognises that the SP PRO is one of the most sophisticated, reliable and trusted inverters on the market and chose to partner their batteries with our inverters in installations as varied as remote off-grid telecom sites and grid-connected commercial premises.
Selectronic at All Energy 2015
October 2015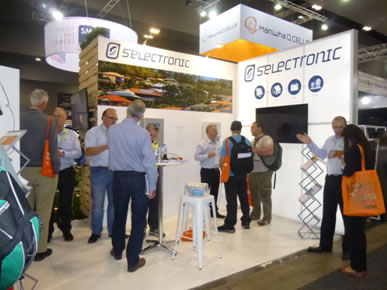 Thank you to everyone who dropped by the Selectronic stand at All Energy 2015 last week. Every year we talk about how busy the show was but this year we were truly blown away by the number of people who came by for a chat and to see what we have been up to over the past twelve months. It was wonderful to see all the familiar faces and also very heartening to see the interest that our inverters are generating in people who were not so familiar with Selectronic before visiting All Energy.
Interest in Selectronic was so high that it was lucky we had arranged for our distributors to help man our stand. It was a great opportunity for the guys from Krannich, MPower and Solar Charge to interact with customers, both old and new. And thank you to Si Clean Energy for promoting Selectronic on their stand.
We were kept very busy scanning the name tags of many of the people who visited our stand as well as filling out information requests for those who had specific enquiries. We will be in touch within the next two weeks
to address the myriad of questions and suggestions that were put to us over the two days.
A special mention to all those Accredited Integrators who wore their official Selectronic shirts to the show. It was great to see Con Whale, Newman Mundy, Peter Varney, Phil Hapgood , Trevor Robotham and Geoff Boadle - just to name a few - in their Selectronic shirts. It's a shame you all couldn't have won our competition. It was great to see a few people entering into the spirit of things and using our prop to tag themselves on Facebook to gain an extra entry – good on you Geoff and Peter! Congratulations to the actual winners –Mark Lewis from Cola Solar on Wednesday and Jade Fennell from 5B Australia on Thursday. They were both thrilled with their hi-vis rain jackets, cordless drill kit and tool bag; according to Mark it was the first thing he's won other than a chook raffle!
There was great interest in the new myGrid Lithium kit which is due for release in February 2016. The Sonnenschein high current lithium batteries are perfectly matched to the high output SP PRO range, allowing very high peak outputs for both off and on grid applications. We were also pleased to promote the close integration between our SP PROs and the Ecoult Ultra battery. Selectronic have assisted Ecoult in testing this new technology; around 10 sets have been in field trials over the past 2-3 years.
Rod Scott, our Sales and Marketing Manager, spoke to a full house at the Install Issues session in the Professional Development Theatre on Wednesday afternoon. There was a surge of interest to our stand after Rod's talk, with people interested in a road test of Selectronic's new solar calculator named Stella. We will be releasing a beta version of Stella on our website soon.
The ATRAA dinner on Thursday night, which incorporated the CEC Solar Design and Installation Awards, capped off an extremely successful All Energy exhibition for Selectronic. Congratulations to Brian England from Self Sufficiency Supplies for winning the Stand-alone Solar PV Power System Design and Installation. Brian used three SP PROs to manage this off-grid installation. The EnvrioGroup was a finalist in the Grid-Connect Battery Back-up category and they also used SP PROs as the centrepiece of their installation.
We hope that all those who visited our stand at All Energy 2015 are using their Selectronic sunscreen and wearing their Selectronic caps. Remember, Selectronic has you covered!
Brian England from Self Sufficiency Supplies wins CEC Award using SP PROs
October 2015
Congratulations to Brian England from Self Sufficiency Supplies for winning the Stand-alone Solar PV Power System Design and Installation category at the 2015 Clean Energy Council Solar Design and Installation Awards.
Brian used three SP PROs to manage this off-grid installation.
And in a happy instance of synchronicity, there is a detailed article in this week's One Step Off the Grid showcasing the installation.
Click here to go to the article.
Installation of the SP PRO GO Series on the AusNet Services distribution network
September 2015
Selectronic Australia is pleased to announce that they have provided a Factory Acceptance test for their highly acclaimed, Australian-made, SP PRO GO series of grid-connected inverters in relation to connection to the AusNet Services electricity distribution network.
The SP PRO GO series has been specifically designed to allow consumers to self-consume their solar energy whilst complying with any grid export limits imposed by the utility company. The SP PRO GO series have export limits hard-wired into the inverter. With the correct SP PRO GO, you will only export exactly what the utility has allowed – even if this is zero.
While AusNet Services does not endorse or approve specific products, Selectronic has provided AusNet Services with a Factory Acceptance test for each of the SP PRO GO models. This means that if the system is installed according to Selectronic recommendations, AusNet Services does not currently require an export proof commissioning test by the installer. Selectronic believes this will streamline both the installation and approvals process.
Many customers are choosing the Selectronic SP PRO GO to give them more choice over how they use grid power.
SP PRO GO Series models
| | | | | | | |
| --- | --- | --- | --- | --- | --- | --- |
| SPMC240-0.0 | SPMC241-0.0 | SPMC481-0.0 | SPMC482-0.0 | SPMC1201-0.0 | SPLC1200-0.0 | SPLC1202-0.0 |
| SPMC240-2.0 | SPMC241-2.0 | SPMC481-2.0 | SPMC482-2.0 | SPMC1201-6.0 | SPLC1200-15.0 | SPLC1202-20.0 |
| SPMC240-2.5 | SPMC241-2.5 | SPMC481-3.0 | SPMC482-3.0 | | | |
| | SPMC241-3.0 | SPMC481-4.0 | SPMC482-4.0 | | | |
| | SPMC241-3.5 | | SPMC482-4.9 | | | |
| | | | SPMC482-5.0 | | | |
| | | | SPMC482-6.0 | | | |
Selectronic will be at All Energy 2015
Our world-renowned bi-directional inverter chargers will be on display at All Energy in Melbourne, 7 & 8 October.
Come visit us at stand 2323 to see how Selectronic can help you manage every aspect of your energy needs.
On our stand, you will find:
Latest product and service developments
News about battery storage options
Expert advice
Competition for a great prize pack
Selectronic making waves in Hawaii
August 2015
Selectronic was one of only three Australian companies to exhibit at the Asia Pacific Resilience Innovation Summit and Expo (APRISE2015) held in Honolulu, Hawaii from August 24-26, 2015. Selectronic were displaying their SP PRO, the Australian made bi-directional inverter charger.

Rod Scott, Sales & Marketing Manager at Selectronic
with Sean Jobe, Business Development Manager at Ecoult.
APRISE2015 focused on innovation in the resilience pillars of energy, agriculture, water and security. The aim of the event was to collaboratively seek out new solutions for the island communities of the Asia Pacific who are already facing the impact of climate-change. Rod Scott, Marketing Director of Selectronic, observed that "Resilience was the real focus of the event. People at the expo were looking for solutions that gave them reliable autonomy. We were able to show how our intelligent inverters combined with battery storage can give them control of their energy usage."
Selectronic shared an exhibition booth with Ecoult, the Sydney-based company who were showcasing their UltraBattery, a new battery storage system featuring brand new technology invented and incubated by the CSIRO in Australia. Says Rod, "It was a real bonus to be able to show the delegates how Selectronic's inverters and Ecoult's batteries can work together to allow energy self-consumption - two Australian companies providing a combined solution."
Rod spoke to delegates from Hawaii, Guam, Jamaica and others operating throughout the Caribbean. He was struck that their requirements were similar to customers in Australia – they wanted a reliable and flexible inverter-charger that worked in both off-grid and solar hybrid situations. Fortunately Selectronic has been manufacturing battery-based inverters since 1981!
Hawaii was the ideal location for a conference focusing on resilience innovation; in June this year the US state signed into law its intention to become completely energy self-sustaining, using 100% renewable sources by the end of 2045. Rod was impressed by the collaborative approach that all stakeholders are taking to achieve this target. "The government, retailers and distributors all seem to be working together to achieve this goal. APRISE 2015 showed me how it's possible for all stakeholders to work together for a cleaner, greener future."
ABB inverters now SP PRO compatible
March 2015
The highly acclaimed Selectronic Managed AC Coupling for Battery Systems has added selected single phase ABB inverters to the list of compatible Grid Tie inverters.
Compatible models will now be marketed using the "Selectronic Certified" branding and are only available from Selectronic and our distribution network.
Selectronic Certified ABB inverters will only be available through the normal Selectronic supply channels with very good lead times.
Each ABB inverter is supplied with an interface adaptor which is installed inside the SP PRO and then connects to the ABB inverter via a standard supplied network cable. Up to 5 ABB inverters can be handled by a single SP PRO. Any SP PRO with Rev 21 hardware revision (Feb 1st 2015 manufactured onward) is compatible with ABB Selectronic Certified inverters.
Selectronic Australia turns Fifty
December 2014
It's not every day that an Australian Electronics Manufacturer turns 50, but that's what Selectronic Australia did just last month. Since 1964, Selectronic Australia has manufactured electronics from various facilities in Melbourne. So what better way to celebrate than with a party!!!
On November 27th, a beautiful Melbourne spring afternoon greeted Selectronic Staff and long term customers who had gathered at the Foothills Conference Centre in Mooroolbark, Victoria, complete with its wonderful Australian bush garden setting. After a few refreshments for customers, some who had travelled from as far away as Indonesia, Selectronic MD Ken Scott and other senior staff welcomed their guests with a summary of the company so far and some indications of what lies ahead for this proud Australian company. This session closed with a very clever and thought provoking video from Selectronic about the plight of PV and the Electricity utilities. You can view the movie here (link https://www.youtube.com/watch?v=uSq7ue0YTsM)
Pre-Dinner drinks were accompanied by some great Aussie music by local singer Angela Robinson, while the room was littered with memorabilia from the past and a few photos that raised a laugh or two.
Once inside the dining room, MC and comedian Ben Price got things off to a great start with impersonations of a couple of characters from the 60's, while MD Ken Scott explained the company through the sixties, honouring his late parents Brian & Lois Scott who founded the business in humble beginnings in Boronia in 1964, and Angela rounded out that decade with a couple of Aussie songs from that era. As the night unfolded, each decade of Selectronic's rich history was presented by Lindsay Hart and then Rod Scott with characters, stories and finishing with more Aussie classic songs from Angela.
For dessert, Ben Price presented his favourite "Tim Tam" character, while Selectronic showed its character by acknowledging long term staff members of the company for many years of service and presented awards to high achieving customers. Nick Chapman from Solar Works in Cairns was awarded the inaugural "Selectronic Hall of Fame" award for loyalty, skill and, of course, consistent sales over the years.
A huge Anniversary cake was wheeled out to mark the special occasion with photographs with the staff.
A further award saw Nate Shaw from Eco Coast Solar win the 50 year anniversary Gold SP PRO for his efforts at the All Energy Exhibition competition.
As the night drew to a close, stories from days gone by were still being swapped and the problems of the Renewable Energy Industry were being solved, if only they could remember the solutions the next morning at breakfast!
This unique night will certainly go down as one of laughs, memories and recognition of this very special Australian Company.
New Site Configuration Wizard - Sets up the SP PRO quickly and easily
September 2014
Setting up the SP PRO AU or GO series inverter is now quick and easy with the new Site Configuration Wizard contained in the latest SP LINK software.
Simply enter the SP PRO model number, either the installed myGrid kit or custom battery bank parameters, the Application and the PV Solar configuration. The new Site Configuration Wizard will do the rest. All the necessary configuration parameters will be set by the Site Configuration Wizard, ready for any additional customising before being sent to the SP PRO.
You may download the latest SP LINK from here.
New SPLC1200 inverter hits the sweet spot
May 2014
Simpler to install with greater functionality, lower cost and superior performance, the new SPLC1200 15kW inverter makes a lot more sense than the alternative option of inverters in a cumbersome parallel configuration.
As with all inverters in the Selectronic SP PRO family the SPLC1200 is suitable for Solar Hybrid (grid connected) and off grid power systems in either a single phase, three phase or split phase (SWER line) configuration. Compatible with virtually all battery technologies and renewable energy sources the SPLC1200 provides the solution for the simplest and for the most complex power system. The SPLC1200 also works with any grid connected inverter in a Generic AC coupled configuration or a KACO Powador inverter in a Managed AC Coupled solar powered system.
Detailed specifications and performance information can be found here.
KACO TL60 impressive performance
November 2013
The TL60 was recently tested by highly respected European Photon magazine and found to be a top performer.
See what they had to say below.
With the Powador 60.0 TL3 INT you have taken the right decision.
This inverter was tested twice with best marks in the PHOTON magazine.
Read the PHOTON review. (PDF 71 kB)
Extend the AC Source power of your three phase power system
October 2013
The simple addition of an external three phase contactor circuit into any three phase SP PRO power system will allow the AC source power limit to be increased whilst ensuring a simultaneous connection or disconnect of all three phases. All the controls and settings to operate the external contactor are incorporated into the SP PRO inverter.
Features of External Three phase contactor.
Extend the AC source power up to 180kW. Great when using high capacity Grid supply or large generator.
Dry contact relay provides external contactor control.
External Current transformers interface directly to the SP PRO inverters.
External Contactor circuit may be wired remotely from the SP PRO inverters to avoid long runs of high current load and AC source circuits.
Ensures simultaneous disconnect of all three phases of Grid power or generator power sources. Helps to ensure load balance or export balance is maintained.
For more information and wiring configurations please see technical note:
TN0057_03 SP PRO External AC Source Contactor Option (PDF 489 kB)
Take Control of your power with SP LINK 7.0
September 2013
SP LINK Version 7.0 is here
Features of Solar Hybrid Control.
Eight easy to use priority schedules giving full control of your energy use.
Date control – different schedules for each Season
Full Day and time control
Each priority schedule gives you control of:
When you take power from the grid.
The amount of power you take from the grid,
How much Export power if any to push into the grid. Stay below your allowed limit.
The amount of power taken from the batteries at any given time whilst avoiding over discharge
The battery charging source (grid, renewable or both) and charging limit, both based on battery State of Charge
When you want to disconnect from the grid.
Turning off the SP PRO inverter when not needed.
Now available. Remember to upgrade your SP LINK software before upgrading your inverter firmware.
German KACO Grid Inverter now Backup ready
July 2012
Selectronic have re released the KACO 02 series of Grid Tie inverters which can now be upgraded to include a backup power supply in case of grid failure.
Clients can now install a high voltage Grid Tie system using the KACO Grid Inverter with the option of adding a Selectronic SP PLUS Energy Centre now or at any time in the future. This will require no modification to the existing KACO solar system and will allow the solar system to continue operating even when the grid has failed.
The new features have been developed as a joint research and development project between KACO Germany and Selectronic Australia and are claimed to be the most advanced method of integrating a Grid Tie Solar System with battery Backup system anywhere in the world.
The KACO 02 series is available in single phase with power levels up to 6kW.
The premium quality KACO inverters have been manufactured in Germany since 1998 using an advanced Carbon Neutral manufacturing plant and feature a standard 7 year warranty.
Japan looks to Australia for electricity after quake & tsunami
August 2011
The devasting tsunami in Japan earlier this year has caused many widespread issues. Of course how to rebuild the region's power system is a high priority. Japan is looking to Australian technology to assist the rebuilding.
In late July 2011, senior members of Selectronic visited the region along with Austrade Japan to discuss how electricity supply can be improved in the earthquake prone areas. The earthquake has reduced Japan's power generation capability, which could be eased by the use of load levelling technology presently available from Selectronic.
Other options for consideration are solar/wind energy fed to the grid at each home with battery backup. These would improve power security as well as ease the burden on the power grid.
Selectronic stand alone inverters born again
July 2011
Lovers of LD, WM and SA series Off Grid inverters will be excited to learn that Si Clean Energy Pty Ltd in Coffs Harbor NSW will be continuing the manufacture, distribution, service and support of these much loved products.
As of July 1st, Si Clean Energy will handle all enquiries including the support and service of all units already in the field.
SP PRO increased power
May 2011
Component temperature is a major contributing factor in the failure of any piece of electronics equipment. Performance ratings are usually based on the maximum safe operating temperature of the internal components.
Thanks to some very clever improvements to the thermal path inside our SPMC inverters, we have been able to improve the airflow over some internal components by up to a massive 47%, the result is we now offer you even more power and charge amps in the same size package.
Even better, the dollars per watt will actually reduce. But even better again, until July 1st you can get the new model at the old price.
SPMC 240

2800W

3000W

$1.85

$1.74

6%

SPMC 241

4000W

4500W

$1.59

$1.44

9%

SPMC 481

4500W

5000W

$1.62

$1.48

8%

SPMC 482

7000W

7500W

$1.21

$1.14

5%
See our latest PROject
March 2011
We are pleased to announce our SP PRO 3 phase PROject is now well advanced.
Three phase OFF Grid systems can now easily be achieved by using three of any model SP PRO's (they must be the same model) and a small interface box called SP SYNC. Simply use a communication cable from each inverter to the SP SYNC and you're ready to go.
The setup with three phases will be the same as single phase by connecting to each inverter using our SP LINK software.
SP PRO three phase compatible models are scheduled to roll off the production line in the second week of May 2011.
Order now, available for delivery mid May 2011, delivery thereafter ex stock.
Inverters in our lab during development
Features:
3 phase output from 8.4kW / 24VDC to 54kW / 120VDC
3 x standard SP PRO's
Note: Due to end of life component supply, our 3 phase PSA inverters will no longer be manufactured. This is effective immediately.
Back up, back up – a closer look at grid back-up inverter systems
February 2010 - Elena Babitcheva
The line between grid-connect inverters, stand-alone inverters and uninterrupted power supply systems has blurred in recent years, bringing a new generation of inverters. Selectronic's Elena Babitcheva looks at the potential this development offers not only to improve renewable energy generation, but also to save lives.
Alternative power system designers are now able to upgrade grid-connect clients to a grid back-up inverter system.
An inverter system that has the ability to export excess generated renewable energy to the grid allows system owners to take advantage of the renewable energy certificate (REC) and local feed-in tariff schemes, as well as provide the added security of battery back-up power.
Grid back-up inverters
Grid back-up inverter systems enable grid and battery bank power-use management. For example, an appropriately configured grid back-up inverter can protect owners from the unnecessary costs of exceeding grid power use (tariff) thresholds.
This is important when national grid network changes are considered, with a growing demand on infrastructure, electricity price increases and a wider enforcement of punitive tariffs by energy retailers.
During a power outage, or when a configured grid input limit is reached, a grid back-up inverter automatically provides battery-sourced power to the loads, offering the user peace of mind.
Applications for grid back-up inverters are infinite, from power-dependent commercial and rural applications to residential fringe-of-grid situations.
One Victorian couple saw significant benefits of a grid back-up system: providing power security when it is most needed during the bushfire season.
Grid back-up inverter helping Kinglake family prepare for future fires
Kinglake residents, John and Mary Broda were caught unaware by the 2009 Black Saturday fires.
They had approximately 15 minutes between noticing the smoke over the hill and fighting a blaze on their property.
A major problem faced by the Broda family was having no electricity as power lines were destroyed by the fires.
Like many others, relying on the mains to power emergency equipment such as communications, water pumps and lighting, the Brodas were left with no means to ascertain fire direction and location and no means to defend their property once it arrived.
"We had no warning when fire hit, we just wanted to grab hoses and fight but [we] don't have mains water so needed electricity to power water pumps to fight the fire. Instead, [we] had to run to the old generator and manually start it, then go to the meter box and switch it over, by then…the front of our place was already burning," says Mr Broda.
Miraculously, the Broda family and their property have survived with little damage.
Grid back-up inverter automatic switchover
As part of their emergency preparation plan following Black Saturday, Mr and Mrs Broda have now installed an SP PRO Grid Back-Up inverter system (SP Plus Energy Kit) with the expectation that when they experience a power cut, this system will automatically power their house, emergency lighting and fire-fighting equipment, by using electricity stored in pre-charged batteries and an auto-start, back-up generator.
"We like the inverter system because it takes care of itself and does the switching over [from the grid to battery back-up] automatically. You don't have to worry about it, you just have to grab your hose and off you go," explains Mrs Broda.
The Broda family had no electricity for a week after Black Saturday. Their new SP PRO inverter back-up system can be expanded to include renewable power sources such as solar, which would allow them back-up power during prolonged grid outages and would reduce their reliance on a diesel generator.
This article first appeared in EcoGeneration: Capital Fanfare (Issue 56 January/February10), p60-61.
Selectronic Australia would like to thank John and Mary Broda for kindly sharing their story.
The SP PRO Accredited Installer Training is back in Melbourne, February 2010
Thursday, 10 December 2009
Due to high demand, the SP PRO Accredited Installer Training is back! Two training seminars will be conducted in Melbourne in the first week of February 2010.
The SP PRO Accredited Installer Training is part of the Selectronic Accredited Installer Program which aims to recognise and reward installers who take initiative to develop their knowledge of the Selectronic products. Selectronic strongly promotes system owners to use a Selectronic Accredited Installer to install their Selectronic Inverter.
In 2009, Selectronic conducted twelve SP PRO Accredited Installers Training seminars within the Australian states of Victoria, ACT, New South Wales, Queensland, Western Australia and South Australia and in New Zealand. The training consists of a one day seminar covering product design features, system integration, installation and field servicing of the SP PRO Inverter Series.
Through this program, Accredited Installers are now able to enjoy a number of commercial advantages and are able to offer a wider variety of SP PRO related services to their customers. These include:
• 40% longer warranty – 5 year warranty is extended to 7 year warranty.
• Warranty maintenance in field.
• Installer priority phone support from the Selectronic Technical Team.
The 2010 training program will enable those who missed out in 2009 to attend. As with the first round of SP PRO training seminar's it is expected to book out quickly.
To register or to find out more about the commercial benefits of this program please contact the Selectronic Sales team.
Small and smart: Introducing the new 2500W/24V SP PRO inverter
Thursday, 10 December 2009
Are you thinking of installing a Grid Connect system? Upgrade to a Battery Backup with the new 2500W/24V SP PRO inverter (SPMC240-AU). The benefits are worthwhile.
Feed-In-Tariffs and Grid Feed
Take advantage of the Feed-In-Tariffs in your state. SP PRO has a Grid Feed function that allows you to export any excess generated renewable power to the mains electricity grid.
Security of Backup Power
During a power outage, the SP PRO seamlessly switches to backup power sourced from your pre-charged battery, offering you mains quality power and peace of mind.
Once the grid electricity is restored, the SP PRO automatically reverts to providing electricity from the grid, simultaneously recharging your battery and maintaining them in optimum condition for the next use.
Smart "Punitive Tariff' protection
With some electricity retailers now imposing a summer punitive tariff, the dollars on your bill can add up. The SP PRO can protect you from exceeding your punitive tariff threshold by using battery sourced energy to supplement your power needs, thereby saving you money.
The new 2500W/24V SP PRO inverter (SPMC240-AU) offers the same 40°C rating, features and reliability as its bigger SP PRO brothers.
For full details of the range click here or call 1800 006 474.
Selectronic SP PRO Series are now AS4777 approved for grid connect
September 2009
The number of grid-supply power outages caused by storms and bushfires is on the rise. Can your business, community group, or school afford the effects of another blackout?
Say goodbye to the inconvenience and costly effects of power outages on the electricity grid with the new SP PRO series of Interactive Inverter Chargers. SP PRO takes charge of your renewable energy installation, exporting excess energy to the grid while ensuring your battery backup is in optimum condition. When there is a power outage on the electricity grid, SP PRO seamlessly switches to battery backup, allowing you to get on with your business.
SP PRO can also be used in Stand Alone Power systems, ideal for energy installations in remote areas of Australia. Because the SP PRO is designed and manufactured in Australia, it's built for extreme environments. The SP PRO ratings are specified at 40°C ambient temperature and every SP PRO is equipped with superior thermal power management making it the ideal choice for the Australian climate. SP PRO even comes with up to 7 years warranty when installed by and an SP PRO Accredited Installer, so you won't be left in the dark.
Brains or brawn? Don't compromise! The SP PRO has high speed digital processing and has set new standards for reliability, surge capability and power density. The SP PRO is available in three sizes; 3500W/24V, 4000W/48V and 6000W/48V, with a new 2500W/24V model now also released.
For full details of the range and to find out which SP PRO is for you, visit here or call 1800 006 474.
Selectronic goes the extra mile bringing you training and support
May 2009
Australia's premier designers and manufacturers of Solar Controllers and Inverters, Selectronic Australia and Plasmatronics, have joined forces in an Australian Manufacturers Unite Roadshow to promote innovation and leadership from the Australian manufacturers.
Selectronic initiated the roadshow as part of the Selectronic Accredited Installer Training and dealer support program. Selectronic committed to bringing the training to eleven locations, travelling 18,000km around Australia with 2 tonnes of equipment enabling more dealers and distributors to attend at their convenience. Selectronic sees its customers as its most valuable asset and is therefore focused on empowering its distributors, dealers and sales staff with skills to ensure optimum performance of Selectronic products in the field. A system well installed is more reliable and requires less support time for both installer and suppliers. Ultimately, reliable power makes for happier customers and we all know what that means.
Over 150 industry members have attended the Australian Manufacturers Unite Roadshow and SP PRO Accredited Installer Training and there are good reasons for it. The SP PRO Accreditation enables dealers to receive exclusive benefits such as extended product warranty, reduced product prices as well as many other incentives. The accreditation also offers priority phone support and the capability to carry out warranty repairs in field for the SP PRO Interactive Inverter Charger.
The concept of banding together was devised through a desire to keep manufacturing in Australia, with the unfortunate loss of BP Solar manufacturing in Australia. "We wanted to do what we could to make industry aware that design and manufacturing is still very much alive and kicking in Australia", said Lindsay Hart, Selectronic Sales and Marketing manager.
The main points of focus of the show were the latest innovative features of the new Selectronic 'SP PRO Stand Alone and Grid Feed Interactive Inverter Charger', 'Kaco Grid Connect Inverter' as well as the 'PLH 120 volt' and 'Dingo' controllers from Plasmatronics.
Selectronic have had fantastic feedback regarding the roadshow and the training to date from the attendees across Australia. Selectronic and Plasmatronics would like to thank all of those who have attended.
Release of SP PRO inverter
February 2009
One of the most anticipated products from an Australian manufacturer in a long time.
The all new SP PRO series is an intelligent and powerful Interactive Inverter Charger.
Available in 3 sizes:

6000 watts / 125 amps / 48 V @ 40°C
4000 watts / 83 amps / 48 V @ 40°C
3500 watts / 146 amps / 24 V @ 40°C


Vastly improved generator synchronisation
Smaller and lighter
Near silent performance
World leading surge performance
Simple easy to read informative LED display
Plug and Play or full configuration
Free advanced configuration software provides access to over 220 settings
Ideally suited to RAPS, Motorhomes, Boats, Industrial
Up to 7 year warranty
100% Australian made
Excellent dollars per watt
Ability to grid feed with battery back up [became AS4777 certified in August 2009]
The expectation of this product is huge, demand has been unprecedented so place your orders now to avoid early disappointment.
Refer to the SP PRO site for full details including our great introductory prices.